Snap Shots
'Round About the Institute
The Red Door, Fall Gathering, Undergraduates are Publishing, and Coming Soon: The Broad Center
---
The Red Door Cafe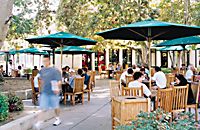 The Red Door Cafe is the unofficial center of campus. Housed in the Winnett Student Center, it is that local magical place which dispenses liquids and solids, and where, within a few minutes of sipping or munching, everything just seems clearer. The crossroads, if you will, of from here to there.
This intellectual gathering place—a Caltech center not funded by the NSF—witnesses more consequential informal and freewheeling conversations between groups of faculty and students than any other on campus, and it has really great chocolate muffins.
---
Fall Gathering
What would you call a melange of cool jazz, delicious morsels, a bit of wine, and 200 professors, staffers, their spouses, and other assorted EAS compatriots? Nothing other than the Second Annual EAS Fall Gathering. As it did last year, Dabney Gardens provided an elegant retreat for the EAS campus community to schmooze and chat, get to know new colleagues, catch up with others from across campus, and simply enjoy a delicate fall afternoon.
---
Undergraduates are Publishing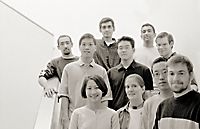 The Caltech Undergraduate Research Journal (CURJ) premiered last April. The shaker and mover behind the project, Editor-in-Chief Lakshminarayan "Ram" Srinivasan, pulled together a team of students from Caltech and Art Center College of Design that produced a publication stunning in both content and design. While the first issue (distributed free) was a complete "sell-out," their website reproduces every issue in both html and pdf formats. Take a look for articles on "Computer Gesture Recognition," "The Aging Enigma," "Evolving Enzymes Faster"—and more—from the first issue. CURJ will be published twice per year, distributed to campuses across the country, and encourages submissions from undergraduates at all educational institutions. The next issue is slated for Spring 2002.
Visit the CURJ website.
---
Coming Soon: The Broad Center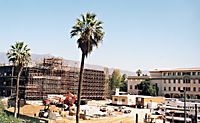 The Broad Center for the Biological Sciences is named for Caltech Trustee Eli Broad and his wife, Edythe, in recognition of their contributions to Caltech's Biological Science Initiative. The building is designed by architect James Freed, a senior partner in the firm of Pei Cobb Freed & Partners, who also designed the acclaimed U.S. Holocaust Memorial Museum in Washington, D.C. Scheduled to open for research occupancy in June, 2002 (shown here in September, 2001), the Broad Center will house three major new research facilities: a magnetic resonance imaging center, a biomolecular structures laboratory, and a genetic resources laboratory.